Reptile Club is a 6 week long collaboration between a group of students and the PHS staff.  Each week, PHS staff members bring a set of animals to a classroom of 10 - 30 students for one hour.  One week may focus on aquatic turtles, another week on non-venomous snakes, a week of crocodiles, and so on.  It is a super fun & interactive, but safe way for students to learn about 30+ species over the course of their Reptile Club experience.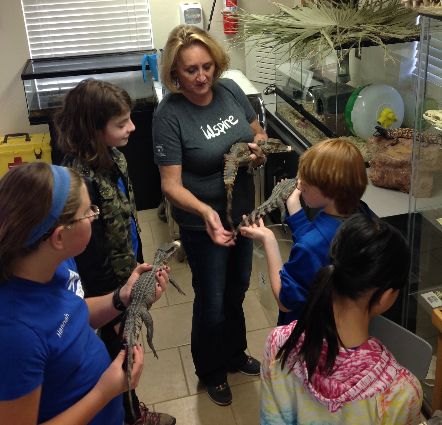 Reptile Club concludes with an open-house style presentation day.  Each student chooses a reptile that fascinated them at some point during Reptile Club.  They then research, prepare a visual aid, and present their findings on the last day of Reptile Club.  Past Reptile Clubs have invited other students/grades, parents, and school administration members to learn about what they now know. 
Cost is $75/student and is best for students in grades 4 - 12.  PHS staff will make sure that material covered is age appropriate and aligned with that level of science knowledge.
Topics that are covered each week include encouraging co-existence, myths, reality, adaptations, life history, ecological roles, conservation status, and much more!
Reptile Club is ideal for schools or classrooms that do not want a one-time presentation and want to expose their students to as many animals as possible in their own school setting.
Email Programs@phoenixherp.com for more information!