Summer Camp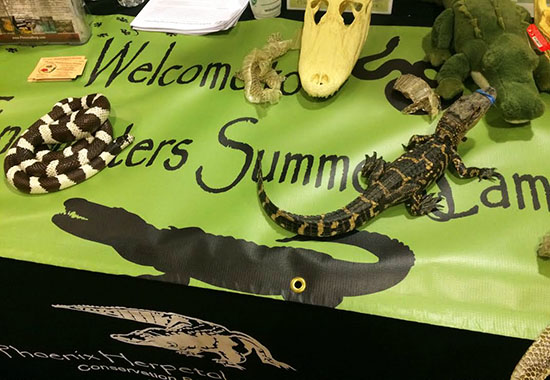 Reptile Encounters Summer Camps 2018 Are Almost Here!
Thank you for your interest in the Phoenix Herpetological Society's Summer Camp Program! We are passionate about the conservation of native and exotic reptiles and are excited to share our animals, experience, and knowledge with your child.
We offer many different camps and opportunities, so please take a moment to see which camp will best suit you and your child's needs. 
To apply, submit the registration packet (available to download below) and your payment to the PHS Director of Outreach and Office Manager by email (Katelyn@phoenixherp.com) or U.S. Mail to the address below. If you must drop off application, please email Katelyn to make arrangements.
Be Sure To Scroll To The Bottom For Helpful FAQ's!
---
Registrations are limited because of the hands-on nature of this program.  Your understanding is appreciated!
---
Want to know more about the camp you are considering signing your child up for?
Click here for camp descriptions!
---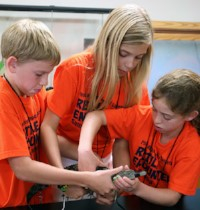 For the Neonate Reptile Encounters Summer Camp, click here to download the registration packet. 
For the 8 Year Old Reptile Encounters Summer Camp, click here to download the registration packet.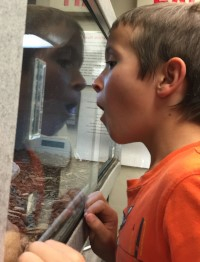 For the Junior Reptile Encounters Summer Camp, click here to download the registration packet.  This includes Reptile Encounters Camps, Vet Camp, Turtle Camp, & Snake Camp. 
For the Advanced Reptile Encounters Summer Camp, click here to download the registration packet.  This includes Reptile Encounters, Vet Camps, Croc Camp, & Snake Camp.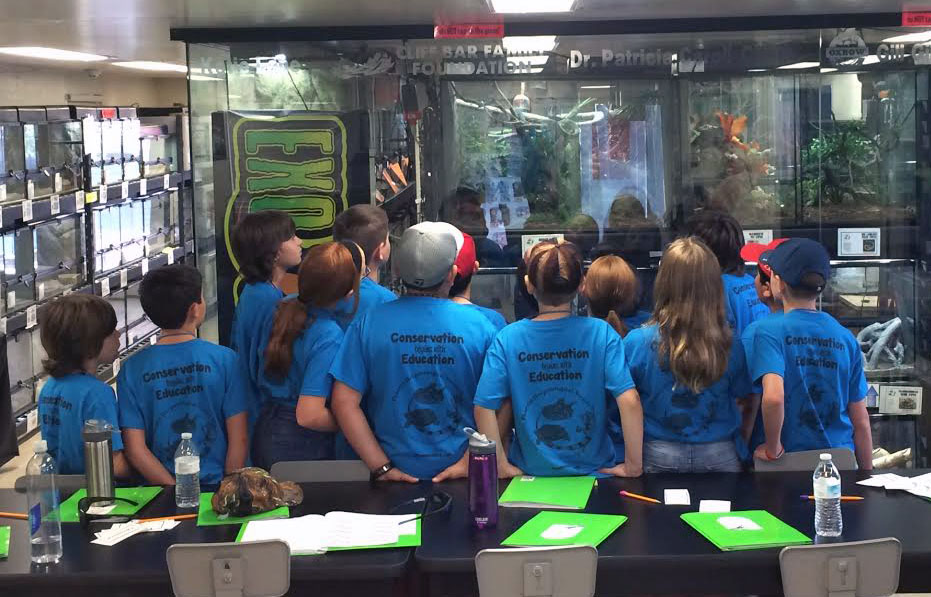 Frequently Asked Questions (FAQ's)
Q: How do I register my child for camp?
A: Find the camp that will work best for the age/interest of your child based on the flyer above.  Then, download the registration packet, fill it out completely, and either email it to Katelyn@phoenixherp.com or send it through U.S. mail to the mailing address on the registration.  Once we receive it, you will receive a confirmation email and when we get closer to camp time, Katelyn will be in touch with more information relevant to the camp your child is registered for.
Q: What is the discount for registering siblings?
A: The first sibling pays the full registration amount and then for any additional children you register, you will take $25 off of their registration fee (which varies among camps).  For example, if you sign up "Bobby" for Junior Reptile Encounters Camp ($275) and his younger sister for the 8 Year Old Reptile Encounters camp, which is normally $275 - but instead, with the $25 discount, her cost would be $250.  It is your choice to pay separately or make one payment together.
Q: What is the discount for registering for more than one camp?
A: Same as above for siblings, but instead of filling out another registration, you only have to complete the one registration for "Bobby", select multiple camps, and apply the $25 discount to the second, third, fourth, etc. camps on the last page when you calculate the total amount due.  For example if "Bobby" first signs up for the Junior Reptile Encounters Camp ($275) then wants to also sign up for the Junior Vet Camp, which is normally $300 - but instead, with the $25 discount, the cost for that camp would also be $275, making your total due for those two camps for "Bobby" $550. Same applies if "Bobby" wanted to then come to Junior Snake Camp (also normally $300, but with the $25 discount, would now be $275), then the total due would be $825 for three full weeks of camp.
Q: Are there scholarships available?
A: There are partial and full scholarships available.  More information will be made available regarding this as soon as it is ready. 
Q: My child would like to be a camp helper.  What does that entail and how do I sign them up?
A: Let's say "Julia" is a 13 year old camper that has been to PHS' summer camps before.  She wants to come back as a camp aid for the younger campers.  We call those "Counselors in Training" - or CIT's.  The first step to become a CIT is for the "Julia" & her parent(s) to choose a couple of weeks that work for her/their family.  She will still be dropped off and picked up as the same time as the campers, so you'll want to make sure "Julia" picks one that will work for your schedule.  We ask for you to pick a couple of potential options in case one has already been filled and they do need to be for the age range(s) that are younger than her.  (For example a Junior age camper cannot be CIT for another Junior camp - they would need to be a CIT for the 8 Year old or Neonate Camps).  Once you have some potential dates picked out, email Katelyn (Katelyn@phoenixherp.com) and she will let you know where would be the best fit.  Let's say "Julia" picks the Junior Snake Camp that she wants to be the CIT for and that week works for both Katelyn & your family.  You would then fill out the Registration Packet for the Junior Snake Camp (even though she is not technically enrolling as a camper for that week) and hand-write Counselor in Training to the side.  It is important that we still have a complete registration with accurate medical & contact information in case of emergency.  The cost to be a CIT is $150 because we do still provide snacks, water, and materials for the CIT to participate in the activities and assist the children enrolled in that camp.  Once all that is done, "Julia" and one of her parent(s)/guardian(s) and Katelyn will set up a time to meet briefly before the week of camp.  This meeting is usually about 30 minutes long so that everyone is on the same page about what we expect from our CIT's.  We do want the parent(s) or guardian(s) involved in this process so that there are no surprises.  Basic expectations for CIT's include helping watch campers for safety protocols, that they are following the rules, helping them with activities/games/experiments, passing out snacks, escorting campers to/from the bathroom, and generally assisting the counselor in any way possible.  The more serious responsibilities are always left to the counselor, as they are trained for many more situations, with the animals, and discipline than the CIT's are.
Q: I see the first weeks of camp start on May 29th, which is Labor Day.  Will there be camp that day?
A: Yes, we will still have camp as normal. Please plan on coming to camp on Labor Day if you sign your child up for that week of camp!
Q: What are the major cross streets of where the camp will be held so I can plan my commute?
A: Dynamite & Scottsdale Rd in north Scottsdale.  You will see the physical address of the camp when you complete the registration packet.  Since we are a functioning sanctuary where people surrender their animals, appointments are always required - even if you only wanted to drop off camp papers.  With a small staff and many animals, we require appointments so that we can best accommodate all of our clients and guests.  We appreciate your understanding with this.  Please do not show up to the facility unannounced or without a confirmed appointment.
Q: My child is younger than the age range for the camp they really want to attend and I think they would be totally fine joining the older students.  Can we do that?
A: We understand that many campers, especially those with a pre-existing love for reptiles may seem like a good fit for an older camp, but this is not always the case. We have designed the curricula for each camp to be age appropriate for the range of kids in that camp.  For example, sometimes a parent will want their 8 year old to attend the Junior Reptile Encounters Camp (which is for campers ages 9 - 11).  We want the 8 year old to have as awesome of an experience as the 9 or 10 or 11 year olds also enrolled in that camp, and when we start stretching the age range, we cannot stick to the planned activities because there is such a wider range of knowledge, experience, and maturity than we planned for.  Primarily for this reason, we ask that you sign your child up for the week(s) that fit their age range.  We very rarely make exceptions for this and it is usually for veteran campers that are familiar with PHS, the property & facility, the staff, the rules, and (to some degree) the animals and usually we require them to take a pre-test to make sure they are at an appropriate academic level to enjoy the camp they are trying to enroll in.
Q: My child has attended camp before.  Do we HAVE to fill out another registration packet?
A: Yes. Even if they have attended, the registration packet, including the dates and some of the questions, are different.  In addition, in case of an emergency, we would want (and we hope you would also want) the most up-to-date and accurate information about your child & their health & your contact information.  We appreciate you taking the time to complete the registration packets completely.
Q: Why are there so many personal/medical questions on the registration packet?
A: Again, this is for the ultimate safety (especially in the unlikely event of emergency) of your child.  This information is considered private and confidential - only Katelyn Garcia (Camp Director), Olivia Bogues (PHS Conservation Educator), and the camp counselors will have access to this information. In addition for example, we train our counselors on what to do for allergies or for campers with multiple types of special needs (mental, behavioral, physical, etc.) and we need to have that information (if relevant) so that our counselors are prepared to give your child the best possible experience.  In the past, we have not been informed that a child has been diagnosed as having Asperger's for example, and the counselor was not prepared to present the information or address potential discipline issues (and actually avoid them with our training) because they were unaware of the diagnosis.  We do not ask these questions to invade privacy - it is for the overall safety and best experience for your child.
Q: Are there before and after care options?  I work/have to drop off other kids/am in school/etc and cannot make the normal drop-off/pick-up times.
A: Yes.  On the last page of the registration, depending on which camps and the age of your child, you can choose the before or after hour care options that you need. During before/after care, campers will help counselors put animals away, may play games (depending on how many children are in before or after care that day), may help prepare animal food, etc.  We do not just plop them in front of a TV and let them watch a video.  They remain engaged with the counselor the whole time until you arrive for check out.