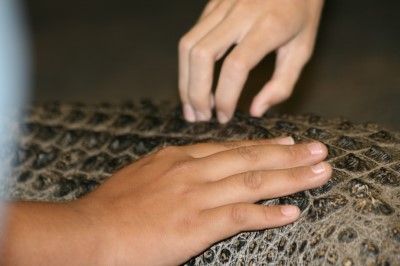 Can you imagine only relying on your sense of touch for your whole life?  For many, by the time they reach adolescence or adulthood, it seems like they'll never get to experience the excitement of feeling something new against their fingers or in their hands.  One of the best moments for us as educators is to see a child or adult who thought they would never touch another new thing light up because of the joy that overcomes them.  PHS has worked with many special needs groups over the years including the Special Olympics, SARRC (Southwest Autism Research & Resource Center), and many schools and their special needs programs.  We plan on continuing this work as well as (hopefully!) growing the opportunities we offer for this amazing group of people in the future.
We are proud to offer unique and relatively ground-breaking opportunities to these groups.  Research has supported the positive relationship between animals and people with special needs for years and we are finally getting to see many of the long term benefits.
Working with animals, especially reptiles, provides an outlet for many youth and adults with special needs. The animals do not judge, have specific and understandable needs and requirements, and truly benefit from the care people can provide.
We offer outings for special needs groups with activities designed with Autism Spectrum Disorders, Asperger's, Down's Syndrome, and multiple learning disabilities, just to name a few.
We also offer special field trips for our blind or visually impaired students to provide an extra-tactile learning experience.
In addition to on-site field trips and outings, we can provide our fun and unique educational demonstrations at your location and can meet most accommodations.  You can find more information about PHS's other educational opportunities and demonstrations by exploring the other pages of the Education section of this website.
Prices are the same as other educational bookings, but some details are flexible, such as length of demonstration or outing, number of animal interactions, etc.

To book a special needs outing or educational program, please contact our Conservation Educator, Olivia Bogues, by email at Olivia@phoenixherp.com or by phone at 480.513.4377 ext 5.