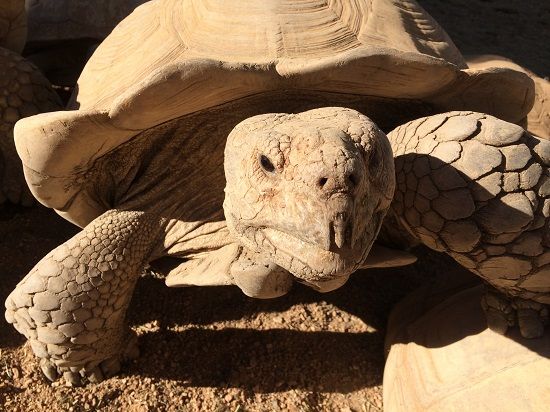 We understand that sometimes pet owners must surrender their tortoise for reasons that may be out of their control.  Many Sulcata owners wish to support the ongoing care for their animal, even though it now lives at the PHS sanctuary. 
**Please note that a sponsorship does not offer the opportunity to get the animal back. We unfortunately are not a boarding facility, so this option is not available. **
$25 per month
·    Visiting the pen: You must make an appointment to visit at least 24 hours in advance. You are welcome to bring appropriate food donations (No potatoes, onion, avocados or anything with pits- like cherries) to coax out the tortoises during your visit. You will have to stand outside of the pen. Time limit will be 30 minutes. 
·    Monthly Enclosure photo emailed to you.
$50 per month
·    Everything from the "$25" section
·   Discount on full tours
·    Ability to have you and your tortoise's name on a plaque displayed on a mural. There will be an extra cost for materials.
While we strive to provide the best possible care for all animals at our facility, please note that PHS is not responsible for the death of any animal, including sponsored animals.