Click HERE to download the registration packet.
Thank you for your interest in the Phoenix Herpetological Society's Summer Camp Program: Reptile Encounters 2015! We are passionate about the conservation of native and exotic reptiles and are excited to share our animals, experience, and knowledge with your child.
To apply, send the completed enclosed registration form (make sure to sign and initial where required) and your payment to the PHS Education Director by email (crystie@phoenixherp.com) or U.S. Mail to the address below. If you must drop off application, call Crystie (480-513-4377 ext. 3) to make arrangements. Click Here for the registration form.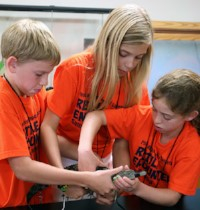 Camp Details
- Camp begins promptly at 9:00 am and ends at 3:00 pm. Please make appropriate transportation arrangements. If you need early-hours or after-hours care, contact Crystie to make arrangements. (Additional fees may apply).
- Registration is $275 per child, per camp session. This fee covers all 5 days of camp, a t-shirt, healthy morning and afternoon snacks and water, an observation journal and workbook, and all lab supplies. Space is limited and we cannot offer refunds upon cancellation or missed days.